Nicholas Bailey is away on vacation, so I'm doing my best to fill in for him.
UFC 90 was certainly a solid card. Going into it I wondered if it would compete with UFC 84 for best event of the year. Now I doubt that will be the case. Too bad we were not able to see more of the prelims (televised at least).
Before I get to the fights, let me just say "What's up with referees Todd Fredrickson and David Smith?!? These are the worst referee ever!!!"

Middleweight champ Anderson Silva vs. Patrick Cote
The most interesting part of this fight wound up being trying to figure out what Silva was thinking. Was he toying with Cote? Was he trying to give the fans their moneys worth? Did he have a grand plan? Or did he just have a problem countering a fighter that was trying to counter him?
Either way, the fight was very disappointing; due to Cote's knee collapsing quickly after he was found bragging about making it to the third round.
Did his knee really give out? (I certainly could not see anything in any of the dozen or so instant replays.) Was Silva mad?
Was Silva being disrespectful?
Obviously this match brought far more questions than answers.
Do we want to see a rematch?
Thiago Alves vs. Josh Koscheck
This was a much more predictable fight. Koscheck could not hang with Alves on the feet in spite of his improved stand up. Koscheck had a hard time taking Alves down, and when he did Alves showed a good defensive guard.
I have to give Koscheck credit, he is tough. Neither Alves nor St. Pierre were able to finish him.
Fabricio Werdum vs. Junior dos Santos
What did we learn in this fight? Well if you saw the video of dos Santos hitting the pads then you already knew this was going to happen (kidding).
Personally I think we just confirmed what we already knew, which is that Werdum is a lousy striker.
Tyson Griffin vs. Sean Sherk
Clearly the best fight on the card. Was Sherk's striking so much better now than when he fought Penn? Is Penn just that much better of a striker? Or does it just go to show what a few inches of reaches can do?
I think maybe all of the above.
Now we have to see what happens between Florian and Stevenson. Either way, we're going to see a rematch, either Sherk vs. Florian, or Penn vs. Sherk or Stevenon.
Rich Clementi vs. Gray Maynard
this fight got a lot of hate from the fans, but I thought it was a good, solid fight. Both fighters were always very active whether on the feet or scrambling for position. They just happened to neutralize each a bit. It was never a stalemate, and at no time should the fight have been stood up.
Thales Leites vs. Drew McFedries
Breaking news…Drew McFedries has no ground game.
I'm surprised Thales Leites was not on the main card, since theoretically he could be a potential opponent for Anderson SIlva.
Spencer Fisher vs. Shannon Gugerty
At first this seems like a step down for Fisher, but Gugerty gave him quite a fight, so maybe it wasn't. It's a shame that such a technical and exciting fighter as Fisher, who was once a title contender, is now established on the under cards.
Matt Horwich vs. Dan Miller
This was a nice little scrap. Not much else to say.
Marcus Aurelio vs. Hermes Franca
Wow! Marcus had absolutely nothing for Hermes. It's amazing to me that any of the judges (two to be exact) gave rounds to Marcus. After that beating I really don't know how Marcus can show his face in the cage again.
Josh Burkman vs. Pete Sell
Loosing to Pete Sell…where do you go from there? Ask Phil Baroni I guess.
Nic and I both went 8-2 on this card. From a betting perspective,…honestly I can't even interpret Nic's bets and parlays. All I know is I won big time on my underdog bet on dos Santos at MMA Playground.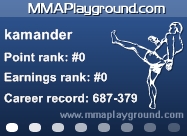 Nicholas Bailey we be back soon for his unique brand of analysis and advice.
| | |
| --- | --- |
| What Do You Think of This Fight/Event? | |