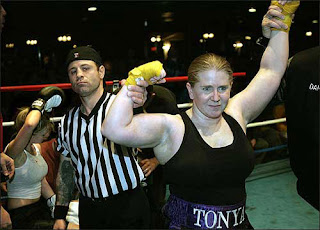 By Katrina Belcher (katrinabelcher@mmaratings.net)
Tonya Harding an MMA fighter? She is, at least according to her Website "…one of the most influential or perhaps controversial persons in Figure Skating history, and in all sports history, in notoriety, perhaps second only to Mohammad Ali." So with the advent of MMA, is she still a lost little girl trying to find her place in life, or a true warrior, ready to fight in the ring?

Former figure skater Tonya Harding, (yes, "the" Tonya Harding) was scheduled to fight as an amateur MMA fighter at the Palace on Jan. 24th in Lansing, Michigan. Oh-my-GOSH. Talk about reinventing yourself. I guess she figured the pay was better if she beat the **** out of her opponents personally. Wonder if she knows any Muay Thai? Flying knees are quite effective in the ring. (To self: I wonder if she knows bats aren't allowed???)
Unfortunately, Michigan is still trying to figure out their MMA rules. Consequently, based on their current rules and regulations, Harding is ineligible to compete in an ammy fight in Michigan, because she has previously boxed professionally. Uh-huh. Quite a dilemma here. This pretty much means Harding will never get to fight as an ammy in Michigan. What a shame!
The promoter of the Extreme Cage Fight War event, where Harding was scheduled to fight, Joe Donofrio, as well as several other mixed martial arts enthusiasts, attended a hearing today on the proposed state rules for unarmed combat (boxing and cage fighting). Apparently the popular consensus was that the proposed rules needed to be revised, in order to clarify the status of amateur contests. You think?
Fortunately for all the Harding fans, Donofrio said she will still make an appearance and sign autographs. Whew. Thank goodness for that. I'm so bummed — no REALLY I am — that I can't be there. I'd love to meet Tonya in the ring…um, I mean get her autograph. Guess I'll have to wait for her to come to my town.
| | |
| --- | --- |
| What Do You Think of This Fight/Event? | |