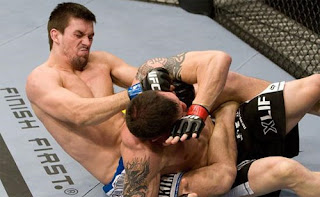 By E. Spencer Kyte (espencerkyte@mmaratings.net)
Now we're starting to get into some of the really well-known fighters and the beginning of debate territory, although some questioning has already occurred along the way.
Truthfully, that is part of the point. These are my rankings, based on the research I have done and how I grade wins, losses and the strength of competition each fighter has faced and by no means do I claim the results as gospel.
I think Shane Carwin stopping three straight opponents including Gabriel Gonzaga inside the first 90 seconds is deserving of the #69 spot, others do not. That is the beauty of lists like this.
Now on with the show!

60. Frank Trigg
UFC Record: 2-3
Victories Over: Dennis Hallman, Renato Verissimo
While I still don't understand why the UFC has decided to bring Trigg back, I am willing to concede that during his initial run in the company, he was one of the best welterweights in the world. Now, his wins may not be household names, but his losses certainly are, and his two fights with Matt Hughes are absolute classics. The other guy he lost to was some kid named Georges something…
59. Demian Maia
UFC Record: 5-0
Victories Over: Jason MacDonald, Chael Sonnen, Nate Quarry
With all due respect to GSP, Demian Maia might actually be my favorite fighter. There is something awesome about a guy who uses nothing else but his nasty BJJ game to finish opponents and does so with the precision of Maia. Nate Marquardt is going to be a very strong challenge, but my money is still on Maia.
58. Kimo Leopoldo
UFC Record: 2-4
Victories Over: Paul Varelans, Tank Abbott
The man who used to carry a cross on his back was the first guy to show Royce Gracie was human before having a couple quick grudge matches with Ken Shamrock, including one for the UFC Superfight title. You've gotta know where you came from to know where you're going, and Kimo was part of the original cast that got guys like me hooked on the UFC.
57. Keith Jardine
UFC Record: 6-4
Victories Over: Brandon Vera, Chuck Liddell, Forrest Griffin
You would think a guy with wins of that caliber would be higher on the list, but Jardine can't seem to string together enough wins to be a serious contender in the stacked LHW division. He's the quintessential gatekeeper – a guy who can beat anyone and is a handful to fight – but until he breaks from his win one, lose one routine, that's all he'll be.
56. Vladimir Matyushenko
UFC Record: 3-2
Victories Over: Pedro Rizzo, Travis Wiuff, Yuki Kondo
"The Janitor" is one of those guys from the dark ages of the UFC, the time right before they returned to the spotlight and therefore is often forgotten. The wins are all solid; Rizzo will be heard from later and Wiuff and Kondo were no joke at the time. When you pair those wins with a LHW title loss to in-his-prime Tito Ortiz and another at the hands of Andrei Arlovski, you have a pretty solid fighter who very few fans remember.
55. Michael Bisping
UFC Record: 7-1
Victories Over: Chris Leben, Jason Day, Matt Hammil
We'll learn a lot more about Michael Bisping's talents inside the cage in six days when he goes toe-to-toe with Dan Henderson. For now, he's a former TUF winner with an impressive record and only middle of the road opponents as victims. While his one loss is at LHW to former champ Rashad Evans, the Hammil fight really could have gone either way and I'm not sold on him as an upper echelon middleweight.
54. Mauricio "Shogun" Rua
UFC Record: 2-1
Victories Over: Mark Coleman, Chuck Liddell
We're going to find out for sure if Rua is back to being the "Shogun" of old when he takes on Lyoto Machida in the Fall for the LHW title. While you have to certainly give him credit for beating two Hall of Famers – and losing a great fight to Forrest Griffin – both Coleman and Liddell are on the down side of their careers, so anything higher would clearly be influenced by his dominance in Pride.
53. Marco Ruas
UFC Record: 4-2
Victories Over: Paul Varelans, Keith Hackney
Ruas is one of those guys from the early years no one ever remembers. You even remember Keith Hackney more than the UFC 7 tournament winner because Hackney beat Emmanuel Yarborough and was the guy who punched Joe Son in the stones repeatedly to secure a win. That being said, Ruas was the first guys to bring devastating leg kicks into the Octagon and his two losses are to men you'll see later, Oleg Taktarov and Maurice Smith.
52. Matt Serra
UFC Record: 6-6
Victories Over: Georges St-Pierre, Chris Lytle, Jeff Curran
When the UFC, and MMA in general. wants to use the "Anything can happen" quote, it should automatically be followed by the words, "I mean shit, Matt Serra knocked out Georges St-Pierre for fuck's sake!" He's a great character, but he's nothing more than a decent fighter who had one really great night.
51. Brock Lesnar
UFC Record: 2-1
Victories Over: Heath Herring, Randy Couture
Like it or not, Brock Lesnar is the UFC Heavyweight Champion. All the arguments about whether he deserved a title shot, that a Super Heavyweight division should be created and that he used to be a – gasp – professional wrestler is bullshit. He's an athletic freak of nature who took advantage of the opportunity before him, something every one of us would do if given the chance. Brock Lesnar is the next evolution in Mixed Martial Arts. Heavyweights have been warned.
Halfway home and six days away from the big show in Vegas.
Tomorrow starts double duty, running down the rest of The UFC 100 and breaking down the Main Card, so be sure to stop by for some serious UFC coverage.
In case you missed anything, check out The UFC 100 Archives.
Happy 5th of July Hangover!
Originally posted at Keyboard Kimura.
| | |
| --- | --- |
| What Do You Think of This Fight/Event? | |