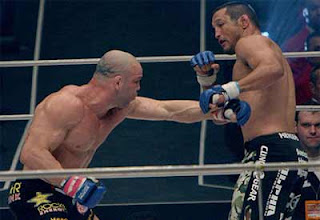 By E. Spencer Kyte (espencerkyte@mmaratings.net)
With each passing day, we're getting closer to crowning the Greatest Fighter in UFC History.
This is where things really start to get interesting, as from here on out we're talking champions and icons, guys who have had a strong impact on the UFC in one way, shape or form. Like the two guys pictured.
They may have squared off in Pride, but both have what it takes to make it into The Dirty Thirties.

40. Kenny Florian
UFC Record: 9-2
Victories Over: Joe Stevenson, Roger Huerta, Joe Lauzon
Later this summer, we could be referring to him as Lightweight Champion Kenny Florian. It's a real possibility, as few fighters have evolved as much as Florian over his time in the UFC. Now that Diego Sanchez has dropped down to lightweight as well, I'm eagerly anticipating a rematch between the two Ultimate Fighter finalists.
39. Oleg Taktarov
UFC Record: 6-2-1
Victories Over: Marco Ruas, Dave Benenteau, Tank Abbott
My favorite former fighter turned actor, Taktarov is a more forgotten man than Marco Ruas, a man who many consider his chief rival. The winner of the UFC 6 tournament, Taktarov's losses came to Dan Severn and the draw is courtesy of Ken Shamrock, so this is clearly a guy who was performing on the top level back when the UFC was still in diapers.
38. Matt Lindland
UFC Record: 9-3
Victories Over: Travis Lutter, Phil Baroni (twice), Pat Miletich
"The Law" is more widely known these days from his attempted foray into politics, the documentary about said foray and his overall reputation in MMA as a founding member of Team Quest. Before the politics and the movies about fighting and politics, Lindland was a UFC staple who handed out losses to some quality opponents and helped David Terrell earn a place at No. 67 by getting knocked out in 24 seconds.
37. Maurice Smith
UFC Record: 4-3
Victories Over: Marco Ruas, Tank Abbot, Mark Coleman
Smith was a champion kickboxer with an average MMA record when he stepped into the cage with Mark Coleman at UFC 14. Twenty-one minutes later, the judges gave Smith a majority decision and the UFC Heavyweight title, which he defended at UFC 15 by defeating Tank Abbott.
36. Josh Barnett
UFC Record: 4-1
Victories Over: Gan McGee, Semmy Schilt, Randy Couture
Welcome to what could have been. If not for a positive test he still disputes, Barnett could have been a UFC Heavyweight mainstay for years and held the Heavyweight title for who knows how long. Instead, he's another of the "win it and leave it behind group" and the youngest champion in UFC history.
35. Guy Mezger
UFC Record: 4-1
Victories Over: Tito Ortiz
No Guy Mezger, no Tito Ortiz feud with Ken Shamrock. It's as simple as that. Well, that and he was a pretty damn solid fighter in his own right and the winner of the UFC Lightweight (read: under 200 pound) tournament over "The Huntington Beach Bad Boy" after all.
34. Wanderlei Silva
UFC Record: 2-5
Victories Over: Keith Jardine
Introducing the hardest fighter on this whole list to rank. He's 2-5 which is close to Elvis Sinosic territory and the Aussie certainly didn't make the list with his 1-6 record. But despite only one win over a household name, the five losses come at the hands of Vitor Belfort, Tito Ortiz, Chuck Liddell, Quinton "Rampage" Jackson and Rich Franklin. With 33 fighters left to go, none of those guys have made an appearance yet, but all of them will.
33. Dan Henderson
UFC Record: 4-2
Victories Over: Carlos Newton, Rousimar Palhares, Rich Franklin
When you have back-to-back title fights in two different weight classes immediately upon your return to the organization, you're pushing the Top 30 in my books. While that opportunity came from his storied career in Pride, Hendo gave both Anderson Silva and Rampage all they could handle and now he's riding a two fight winning streak heading into Saturday's matchup with Michael Bisping.
32. Jon Fitch
UFC Record: 9-1
Victories Over: Akihiro Gono, Diego Sanchez, Thiago Alves
Another member of the fight card at UFC 100, Fitch is looking to become the 13th member of the Ten Win Club. While I won't go as far as saying he gave GSP a scare in his one career loss, the former Purdue Boilermaker did go the distance with the champ and that counts for something with me.
31. Pedro Rizzo
UFC Record: 9-5
Victories Over: Andrei Arlovski, Dan Severn, Josh Barnett
You can add Mark Coleman, Tank Abbott, Tre Telligman (twice), Tyusyoshi Kohsaka and Ricco Rodriguez to the list of victories for "The Rock" during his UFC career. With losses to Randy Couture (twice), Vladimir Matyushenko, Kevin Randleman and Gan McGee, not one of Rizzo's fights in the UFC came against a sub-par opponent. You gotta respect a guy who takes on some of the best every time out.
A couple more days of this and we'll be done. Who will be #1?
Check out what you missed in The UFC 100 Archives.
Originally posted at Keyboard Kimura.
| | |
| --- | --- |
| What Do You Think of This Fight/Event? | |