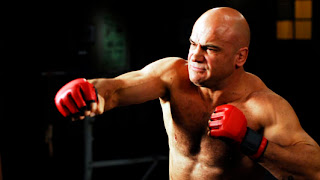 By E. Spencer Kyte (espencerkyte@mmaratings.net)
As promised yesterday, we're getting into deeper waters now, with some iconic figures and legendary fighters that surely rank as some fan favorites throughout the history of the UFC.
Some legacies are unquestioned, their entire careers played out before us inside the Octagon and while their place on this list could be up for debate, the success they've had is well-known.
Yet others, like Bas Rutten, present an dangerous dilemma. The only way to find out how it was resolved is to keep reading.

30. Antonio Rodrigo Nogueira
UFC Record: 2-1
Victories Over: Heath Herring, Tim Sylvia
There will surely be some who question "Minotauro" being ranked so high with just three UFC fights under his impressive belt. Maybe those people don't remember those two wins. In true Nogueira fashion, he was getting battered by both Herring and Sylvia before pulling out a win from the jaws of defeat in both cases, with the Sylvia win bringing the Interim Heavyweight title. And as much as it pains me a little, a loss to Frank Mir isn't anything to be ashamed of either.
29. Ricco Rodriguez
UFC Record: 5-2
Victories Over: Randy Couture, Jeff Monson, Andrei Arlovski
Another of the forgotten former heavyweight champs of the UFC, Rodriguez fell on hard times following his win over Couture for the vacant heavyweight title. He lost his next three fights, including his first defense against Tim Sylvia, and proceeded to bounce around between numerous organizations and battling addiction. Despite his trials and tribulations since wearing the belt, Rodriguez was the dominant heavyweight in the UFC for a time and that deserves recognition.
28. Evan Tanner
UFC Record: 11-6
Victories Over: David Terrell, Phil Baroni, Robbie Lawler
Tanner was a truly incredible figure; a self-taught fighter who constantly challenged himself inside and outside of the cage, and the former Middleweight champion was taken from us too soon.
27. Rashad Evans
UFC Record: 8-1-1
Victories Over: Forrest Griffin, Chuck Liddell, Michael Bisping
Some may question the former Ultimate Fighter's placement inside the Top 30, but the track record speaks for itself. His one loss came to Lyoto Machida, a man many believe will reign over the light heavyweight division for years, and the draw was with Tito Ortiz. Other than those two "blemishes," Rashad Evans has stopped everyone else put before him in their tracks, including "The Original Ultimate Fighter" and "The Iceman."
26. Bas Rutten
UFC Record: 2-0
Victories Over: Tsuyoshi Kohsaka, Kevin Randleman
What do you do with a guy like Bas Rutten? On one hand, he had just two UFC fights in his career. On the other, it included a heavyweight title win and victories over two very legitimate challengers in TK and Randleman. Had he been able to keep going, there is no doubt in my mind he would be higher up the charts.
25. Murilo Bustamante
UFC Record: 3-1
Victories Over: Dave Menne, Matt Lindland
Similarly to Bas Rutten, Bustamante's time in the UFC was brief but meaningful. After a debut win, the Brazilian Top Team founder lost to Chuck Liddell before supplanting Dave Menne as Middleweight champion and defeating Matt Lindland in his one and only defense. Then, he bolted to Pride. Did I mention Lindland was undefeated at the time?
24. Sean Sherk
UFC Record: 7-4
Victories Over: Tyson Griffin, Kenny Florian,. Nick Diaz
"The Muscle Shark" has competed for titles in two weight classes and held the UFC Lightweight belt back for a time. Outside of his most recent loss to Frankie Edgar, Sherk's other UFC losses come to guys not yet featured in this list – BJ Penn, Georges St-Pierre and Matt Hughes – which shows you the level Sherk has consistently competed on during his factured UFC career.
23. Vitor Belfort
UFC Record: 7-4
Victories Over: Tank Abbott, Wanderlei Silva, Randy Couture
His name is back in the headlines with Dana White name-dropping him as a potential acquisition and a renewed dedication to the sport on display in Affliction, but before all that, Vitor Belfort was "The Phenom" of the UFC for a time. He won the UFC 12 Heavyweight tournament before running through both Abbott and "The Axe Murderer," cementing his position here with a dominating performance against Couture to earn the Lightheavyweight title.
22. Andrei Arlovski
UFC Record: 10-4
Victories Over: Fabricio Werdum, Tim Sylvia, Vladimir Matyushenko
One of a select group of men with 10 or more wins inside the Octagon, Arlovski's legacy has recently taken a hit with back-to-back KO losses outside of the UFC. But for a while, "The Pitbull" was one of the most feared strikers in the game and the UFC Heavyweight champion.
21. Tim Sylvia
UFC Record: 9-4
Victories Over: Andrei Arlovski (twice), Jeff Monson, Ricco Rodriguez
It seems like Arlovski and Sylvia have been linked a great deal lately, so it only seems fitting that they follow each other on this list. Sylvia trumps his frequent foe by having two different title reigns atop the UFC Heavyweight division and fighting for the belt five different times. Please don't mention Ray Mercer.
Now we're getting close. Twenty fighters remain and every one from here on out is someone you've watched perform time and again.
Legends like Couture, Liddell, Hughes and Penn still have to find their place in this list.
Who will be #1?
Visit The UFC 100 Archives to see what you missed and meet you back here tomorrow for your daily dose.
Originally posted at Keyboard Kimura.
| | |
| --- | --- |
| What Do You Think of This Fight/Event? | |