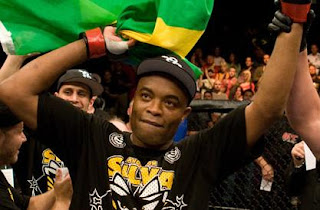 By E. Spencer Kyte (espencerkyte@mmaratings.net)
I was wrong. Very, very wrong as it turns out, and so were a lot of people.
Anderson Silva was, is and forever shall be the top Pound-for-Pound fighter in the world until he tells us all that enough is enough and he's done stepping inside the cage.
As much as Georges St-Pierre's consistent impressive performances over the top welterweights the UFC has to offer, it's been some time since we've seen a performance akin to Silva's UFC 101 display from the pride of St-Isidore, Quebec.
Silva's destruction of Forrest Griffin aside, there are other movers and shakers on this month's installment of the Keyboard Kimura Pound-for-Pound rankings.

Keyboard Kimura Pound-for-Pound Rankings (as of August 19, 2009)
1. Anderson Silva – UFC Middleweight Champion (Last Month: 3)
Even without his beatdown of Forrest Griffin, you could have made a case for Silva as the top dog in the sport. With it, there is simply no question.
The reigning Middleweight kingpin demolished a former Light Heavyweight champion inside the first round and now starts recycling opponents at 185, with Dan Henderson expected to join Rich Franklin at 0-2 versus "The Spider" when the chips are down.
2. Georges St-Pierre – UFC Welterweight Champion (Last Month: 1)
Surgery wasn't required to repair the groin injury "Rush" sustained during his precise surgical dissection of Thiago Alves at UFC 100, but a step up in competition seems to be.
There is no one left at 170 for St. Pierre to prove himself against and it might be time to take a page from Anderson Silva's playbook, tact on a few pounds and test himself against the best of the Middleweight division beginning in 2010.
3. Fedor Emelianenko – WAMMA Heavyweight Champion (Last Month: 2)
Calling him the WAMMA Heavyweight champion feels kind of dirty to me, as I don't put any stock in their rankings and titles. I just didn't want to call him "The Best Fighter on the Planet without a Legitimate Title."
While Anderson Silva is 94% responsible for Fedor falling back to #3, Scott Coker takes 3% of the blame for apparently wanting to have Fedor fight someone other than Alistair Overeem for his Strikeforce debut. The other 3%?
That falls on Fedor, for deciding that co-promotion for M-1 Global was more important than testing himself on the biggest stage, against the best there is at heavyweight.
4. Lyoto Machida – UFC Light Heavyweight Champion (Last Month: 4)
Though I still don't think we should be ushering in "The Machida Era" before he's made one successful title defense, it's hard to argue with the resume thus far.
15-0, never lost a round in the UFC and looking more and more ferocious with each passing fight. The guy who used to grind out decisions has laid out Thiago Silva and Rashad Evans in back-to-back performances.
Shogun Rua gets the first crack, but the real test comes against the winner of the TUF 10 coaches battle later next year.
5. BJ Penn – UFC Lightweight Champion (Last Month: 6)
As promised, Penn climbs a notch in the rankings after showing once again why he is the unquestioned top lightweight in the sport today.
What is even more impressive is his apparent desire to remain as close to fighting shape as possible and keep churning out bouts in quick succession, beginning with a title defense against Diego Sanchez.
Where has this BJ Penn been all along?
6. Miguel Torres – Former WEC Bantamweight Champion (Last Month: 5)
The latest example of the old fight axiom that "anything can happen," Torres drops a notch after losing his title to Brian Bowles at WEC 42 a couple weeks back.
Some would drop Torres completely, or at least include Bowles in the rankings, but not me. Torres has now lost exactly once in the last six years and is 17-1 over his last 18 fights. It's going to take a whole lot more than one loss for him to fall out of favor with me.
As for Bowles, he's looked great and earns big respect for his win over Torres. Do it again and we can talk.
7. Mike Brown – WEC Featherweight Champion (Last Month: 7)
The American Top Team product faces a stern test in Jose Aldo at WEC 44 in November, but does anyone really think the 15-1 Brazilian striker is more dangerous than Urijah Faber?
Brown has shown an ability to avoid serious trouble and impose his will on just about everyone he's faced since joining the WEC and it shouldn't be any different against Aldo and should get the talk of Brown vs. Faber III all fired up again.
8. Gegard Mousasi – Strikeforce Light Heavyweight Champion (Last Month: 10)
If haven't seen his performance against Renato "Babalu" Sobral from last week's Strikeforce event, go find it and marvel in the composure and dominance that is "The Dreamcatcher" Gegard Mousasi.
What makes him all the more impressive is his age; at just 24, Mousasi has been DREAM Middleweight champion, is the current Strikeforce LHW Champ and should win the DREAM Open Weight / Super Hulk tournament later this year.
The sky is the limit for this kid.
9. Rashad Evans – Former UFC Light Heavyweight Champion (Last Month: 8)
The dominance of Gegard Mousasi moves the TUF 10 coach down a peg from the last time these rankings were assembled.
While other's have Rampage ranked higher than his future opponent, Evans' stronger showing over Forrest Griffin and knockout win over Chuck Liddell trump the efforts put forth by Jackson in his win over Keith Jardine or knockout of Wanderlei.
Yes, I know Evans lost more recently, but losing to Lyoto Machida doesn't make you any less of a fighter in my book.
10. Brock Lesnar – UFC Heavyweight Champion (Last Month: NR)
The genetic freak of nature makes his debut more than a month after leaving Frank Mir a bloody mess and pissing off the purists with his performance and antics at UFC 100.
Do I think he's the most skilled fighter in the world? Not even close, but until someone takes that big shiny belt away from him and sits atop the heavyweight division of the best organization in the world, get used to seeing Brock Lesnar in these rankings.
This is my ten. What does your Pound-for-Pound list look like? Let me know in the comments section.
Or you can simply tell me who I missed, who should be higher or lower or anything else you need to get off your chest.
I'm hear to listen.
| | |
| --- | --- |
| What Do You Think of This Fight/Event? | |