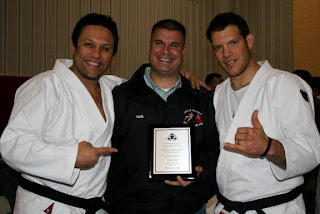 By E. Spencer Kyte (espencerkyte@mmaratings.net)
The guy with the big smile on his face between Renzo Gracie and Ricardo Almeida is Nick Lembo.
Lembo is legal counsel for the New Jersey State Athletic Control Board (NJSACB), a position that has put him at cage-side for numerous events and landed him seats on various committees concerned with Mixed Martial Arts, including serving as the head of the Association of Boxing Commissioners' MMA committee.

With a resume like that, you can understand my surprise when I received an email from Mr. Lembo discussing the merits of an article I'd written on referee stoppages following UFC 102. Clearly, this was a man who could share some knowledge on two of the most debated topics in Mixed Martial Arts: refereeing and judging.
Earlier this week, Mr. Lembo and I traded emails discussing everything from what constitutes a 10-8 round and the training involved with becoming a referee, to the recent Sean Salmon controversy and Jersey's own Frankie Edgar.
Thanks so much for agreeing to do this.
If you could, explain to the readers exactly what your position entails?
In short, with the New Jersey State Athletic Control Board, and with regard to professional and amateur mixed martial arts, I have always been responsible for approving contests, assigning officials, training officials and conducting weigh-ins.
With the Association of Boxing Commissions, I chair, have chaired, or sit on, committees involving mixed martial arts rules, match making, gloves and officials training.
Our first interaction came following an article I wrote about the Chris Leben – Jake Rosholt fight at UFC 102 and the precarious position referees are in where they are in a no-win situation.
First off, what were your thoughts on the fight, should it have been stopped?
I always prefer that fights are stopped a little sooner than later.
The referee in that particular fight, Yves Lavigne, has come under a great deal of scrutiny lately for some difficult decisions inside the cage, most notably his performance at UFC 96 in the Matt Brown vs. Pete Sell fight.
What happens to a referee in a situation like thet where they openly admit to making a mistake and it's obvious to everyone that an error was made?
Yves made a mistake but bounced right back that same night and handled the high profile main event extremely well. No referee in this sport, has, or ever will be, perfect. Every referee so far has had their share of controversies and errors.
No referee who works enough will ever work without a controversy. You have to look at a referee's full body of work and their overall performance.
I've read elsewhere a quote where you said you'd much rather "talk about a fight that was stopped too early than a fight that was stopped too late."
While I certainly share that opinion, there have been some fights in the last six months that many believed were stopped early and I'd like to get your take on them.
Aaron Riley and Shane Nelson from UFC 96?
Stopped early
Kyle Bradley and Philippe Nover from UFC 98?
Did not see it
Johny Hendricks and Amir Sadollah from UFC 101?
No issue with the stoppage
We both agree that the referees in this sport are in a tough position; whether they stop a fight too early or too late in the eyes of the public, they are criticized.
Is it just a matter of further educating the fans to not only the sport, but also the reasoning behind stoppages?
The referee is in the best position to view the fighter and assess his/her condition. The referee is not being influenced by the crowd or the commentator.
The referee is not involved as a fan and is not interested in how thrilling the fight is. The referee is there to enforce the rules and ensure the health and safety of the competitors.
Can you explain what "intelligently defending yourself" involves? We hear the term used so many times, but many fans may not be clear on what it entails.
Intelligently defending yourself means:
Can the fighter defend himself from an offensive attack any longer?
Can the fighter fight back or protect himself and eventually counter or escape?
Obviously, it is subjective, and a trained referee is in the best position to make this assessment. There is a point in some fights where the bout is no longer competitive and one fighter is at imminent risk of serious potential harm. This is a sport, not a spectacle.
So, before getting around to some more insightful and investigative journalism-type questions, what's the best fight you've ever seen, live or otherwise?
In person-
May 4, 2001 UFC 31: Randy Couture vs. Pedro Rizzo, Atlantic City, NJ and August 15, 2003 Ring of Combat 4: Pete Sell vs. Chris Liguori, Secaucus, NJ
On television-
June 24, 1998 Pride 3 Kazushi Sakuraba vs. Carlos Newton, Tokyo, Japan
Alright, back to trying to win a Pulitzer.
How do we improve judging in Mixed Martial Arts?
Start with training seminars for individuals with appropriate martial arts backgrounds. Then have them "shadow" judge at amateur events; have them judge hundreds of amateur fights over several years.
Then, have them start at a small show in the pros alongside two very experienced judges. Consistently review and assess their performances and review any controversial scores with them.
Is the 10 Point Must system the best way to do things or should we move to a different style of judging, perhaps assessing the fight as a whole if it goes the distance as they used to do back in the days of Pride?
No scoring system will ever be perfect as it has to be applied appropriately by the judges, and some subjective viewpoints will always be present. I believe that the 10 point must system is fine, when applied correctly.
A fight resulting in a draw is very rare, despite the fact that many fights would be described by fans as "too close to call." Is there a hesitance on the part of judges to score a fight a draw?
Judges are scoring fights on a round by round basis. They are able to score a round 10-10 if that is how they see it.
I have seen fights in New Jersey that resulted in draws. Draws are rare because it is more likely that one fighter edged their opponent in the majority of the rounds.
In your professional opinion, what constitutes a 10-8 round?
When one contestant overwhelmingly dominates by striking or grappling in a round [and/or] when one fighter is dominant and causes damage to the opponent.
What kind of training or education do these judges go through before taking their seats outside the cage, as there are clearly a great deal of differences in MMA from boxing where a number of these judges originate?
I touched on this already.
In New Jersey, you must first attend a general officials seminar. You must have a martial arts background. You start as an amateur inspector.
After a judges seminar, you can begin to act as a shadow judge. As a shadow judge, you sit next to each judge and score the fight, but your scores do not count. Your scores will be reviewed.
Then, you may get the opportunity to judge at amateur fights. There are periodic training seminars.
After spending significant time in the amateurs, you may get a shot as a professional judge on a small show.
Backtracking for a second if we could, what kind of training and certification do the referees go through?
It is very difficult to become either an amateur or professional mixed martial arts referee in New Jersey. We have only used about 15 professional and amateur referees in the last 9 years.
You have to have an appropriate martial arts background. You have to attend training seminars. You have to work all the other positions before becoming a referee.
Is it something that has to be maintained over specific intervals like CPR or is it a case of one you're in, you're in?
Specific intervals.
Well-known referee "Big" John McCarthy has launched a program he calls C.O.M.M.A.N.D. – Certification of Officials for Mixed Martial Arts National Development.
Have you had a chance to see any of the training materials, attend any of the sessions or speak with McCarthy at all about the program and if so, what are your thoughts?
Is it something we could see becoming universally recognized and used to certify and accredit all MMA referees?
I am familiar with the C.O.M.M.A.N.D. program and have sat for a two day presentation by John McCarthy last year in Montreal.
I believe that training and refreshers are an essential part of officiating. However, you could take 10 training courses and still not perform well under the pressure of a live event. I don't want the best test-taker, I want the best individual that can perform under fire.
I recommend that you become proficient in arts like jiu-jitsu, Muay Thai, boxing and wrestling. Then, act as a referee in your gym's sparring and training sessions.
Next, try refereeing at some grappling matches. At the same time, take some training courses. Then, try to get your start at an amateur event.
Try to develop a relationship with an experienced referee and learn from them.
You've become involved in the recent Sean Salmon situation. What are your thoughts on what Salmon said and if you were to decide his fate, what sort of punishment would you levy?
Salmon deserves the opportunity to be heard at a formal hearing prior to deciding his fate. It would be premature to decide without hearing from him directly in a formal setting.
The NSAC recently gave the thumbs up to both the use of instant replay and the possibility of five-round non-title fights. What are your thoughts on each?
New Jersey has had instant replay since December 2006 and I am in favor of it. We used it once.
I'm not sure how I feel about five round non-title fights; I think a true title fight should offer something different, like the customary extra two rounds.
Once again I'll stop with the third degree and move to something a little less intense.
How long before Frankie Edgar gets a title shot?
Frankie may be on his way to a title shot, but that is up to the UFC management, not me.
Frankie is a good example of the extremely tough "club" show circuit in New Jersey having fought Jim Miller, Deividas Taurosevicius, Jay Isip and Mark Getto in his first few fights before he ever left the State.
If you could fight anyone – past or present – who would and be and who would be the winner?
I am a regulator, not a fighter.
If you could play matchmaker for one day, regardless of organizational ties or anything like that, what three fights would you make and why?
Believe it or not, I prefer to watch fighters develop and mature in our amateur program and go professional, more than watching so-called dream fights.
Anyone you want to say hi to? We are guaranteed to reach at least 47 people…
Hello to all the fighters from years ago who paved the way for the sport to become as big as it is today.
Thanks so much for doing this.
| | |
| --- | --- |
| What Do You Think of This Fight/Event? | |