We often hear the opinion that wrestling is the best foundation to have when starting a career as a mixed martial artist. Daniel Cormier may be the next name to add to the list of examples, as he looks to win the Strikeforce Heavyweight Grand Prix on Saturday. A fighter with a wrestling pedigree that is near the top of the sport, Cormier has quickly developed into a top heavyweight prospect at a time when a fighter of his caliber could not be more valuable. When you look at his career arc and where he's potentially headed, that path is similar to one that's been walked by another heavyweight wrestler in recent memory.

Cormier could be considered a wrestler's wrestler. The two-time junior college national champion failed in his only attempt to capture a NCAA title. However, that did not stop his aspirations to become a standout competitor in the sport. In 2004, he earned fourth place in the Olympic Games and was the captain of the 2008 team. However, kidney failure kept him off the mats and the medal stand. Cormier went on to become a professional wrestler, but not the type you would see landing flying elbow drops or chair shots. Instead he turned to the short-lived Real Pro Wrestling league, but that organization went out of business before it had the chance to gain any steam.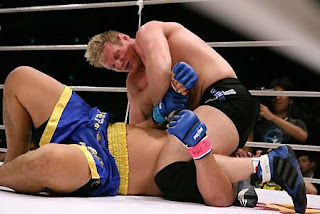 Now Cormier makes his waves in the cage. At 9-0, the 33-year-old athlete finds himself with an opportunity to defeat mainstay heavyweight fighter Josh Barnett, then move over to the UFC, where he can position himself for big fights and big paydays. In less than three years, he has gone from MMA rookie to potential title contender. Leaning on his top notch wrestling abilities and penchant for landing heavy shots, Cormier's career arc is similar to that of professional wrestler turned fighter back to professional wrestler Brock Lesnar.
Lesnar burst onto the UFC scene after just one fight that didn't really mean anything. Even though he was submitted by Frank Mir in less than a round, that fight introduced to the Octagon perhaps the biggest star it would come to know. In less than a year he would go from being a potential freak show to carrying around the UFC's heavyweight title. Even though illness cut into a career that could have been much more impressive, there is no doubt that Lesnar made a large impact on the sport of MMA. Cormier is now in the position to do the same thing, and the first step comes this weekend.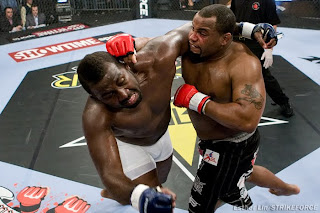 While most will be quick to point out the differences between Cormier's and Lesnar's wrestling accolades, the fact still remains that both fighters used what they know best so effectively that it caught the attention of opponents and promoters alike. When Strikeforce needed someone to step into the Grand Prix tournament, Cormier did so in style by knocking out Antonio Silva in less than a round. Going into this bout with Barnett, he's considered a favorite, even though he doesn't have even half of the experience that the "Warmaster" has accumulated during 15 years of fighting; even though he is just one year younger than his opponent. With the winner most likely being moved to the UFC's heavyweight division, Cormier can solidify himself in a weight class that is in drastic need of contenders as quickly as possible. His skill set of being able to take down opponents at will, combined with a developing striking game, makes him a very dangerous prospect. Working with teammates such as Cain Velasquez and Jon Fitch while a part of AKA has shown through each and every time he has stepped into the cage.
This Saturday's Strikeforce Grand Prix final has a major main event feature between Josh Barnett and Daniel Cormier. One is a mainstay in the heavyweight division, while the other could be considered a late bloomer. While we've all heard it's better late than never, Cormier has used his wrestling abilities to get to this place right on time – when the heavyweight division needs him most.
| | |
| --- | --- |
| What Do You Think of This Fight/Event? | |