Live from Atlantic City, UFC on FX 4 is set to kick off a busy weekend for the Ultimate Fighting Championship, and mixed martial arts as a whole. The UFC's fourth venture on FX will feature a number of interesting matchups in multiple divisions. With a main event that could potentially create a title contender in the lightweight division, and another fight that could cement a title contender in the featherweight division, UFC on FX 4 will be well worth watching.

At the top of the bill we have the return of Gray Maynard, fighting perennial fan favorite Clay Guida. In what looks like to be an interesting matchup on paper, these two lightweights have a lot to gain and a lot to lose with this matchup.
Maynard is coming off of his first defeat last October, when he was stopped by former champion Frankie Edgar in the third bout of their rivalry. The standout collegiate wrestler then changed camps, moving to California and joining American Kickboxing Academy, though he also spent a lot of time working with Nova Uniao. Not only does he hold a notable win over Edgar; he's beaten Kenny Florian, Jim Miller, Nate Diaz, and Dennis Siver in the past.
Guida is trying to rebound from the defeat that he suffered at the hands of the current lightweight champion, Benson Henderson, at UFC on Fox 1. Guida is loved by fight fans because he knows how to put on exciting fights, and a look at his history provides many examples. The former Strikeforce champion has won six Fight of the Night honors, and his bouts against Tyson Griffin in 2007 and Diego Sanchez in 2009 were considered Fights of the Year across many outlets.
The key to this matchup is pacing. Maynard is a notorious fast starter but has faded profoundly in his last two bouts. He can't afford to do so against Guida, who keeps coming no matter what he is hit with. Some liken Guida to the Geico Caveman visually, and he can surely take a shot like one. For Maynard to win this bout he will have to use the power that has rocked fighters in the past, but be more effective at finishing the bout if the opportunity presents itself. If he is unable to do so, and this bout drags into the third, fourth and fifth rounds, Guida will be able to take control and score points. In what is expected to become a back and forth, fast paced contest, look for Guida to edge out the decision victory due to takedowns and overall activity.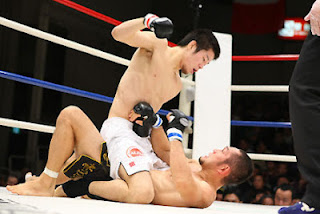 In a featherweight bout, Hatsu Hioki will take on Ricardo Lamas, seeking to prove that even though he decided against taking a title shot, he is the best fighter in the weight class not named Jose Aldo. After shaking off so-called "Octagon Jitters" in his introductory bout with George Roop, Hioki looked impressive in dissecting Bart Palaszewski at UFC 144. His technical striking and often overlooked ground game makes him a formidable foe for anyone in the weight class, and potentially the last true test for Aldo, who has looked at moving up to 155.
Lamas made his UFC debut in 2011, and is currently riding a two-fight win streak since dropping to featherweight. However, he hasn't faced an upper echelon talent while under the Zuffa banner, and this is the first true test of his standing in the weight class.
To win this bout, Lamas will have to pressure Hioki from the very start, just as Roop did during their bout. We have seen that when Hioki is given the opportunity to work his range and game, he can pick apart an opponent in every aspect of the fight. Expect Hioki to look to stay behind his jab and leg kicks to control range. Both fighters are proficient on the ground, with the slight edge going to Hioki. A scramble can open up a submission opportunity for either fighter, but expect most of this bout to be contested on the feet, leading to a decision victory for Hioki, and a shot at the featherweight title late this year or early in 2013.
The other bout that stands out for excitement is Brian Ebersole versus T.J. Waldburger. Ebersole is a very experienced fighter who shocked the world when he stepped in on short notice to defeat Chris Lytle. He's becoming known for more than his chest hair arrow; he is a combatant that can put on a good show and finish fighters.
Waldburger is 3-1 since entering the UFC. His lone defeat came to top contender Johny Hendricks, but outside of that bout, Waldburger has shown an aggressive grappling style that we rarely see. The moment his back hits the mat, he begins to actively pursue submissions and transitions, which shows how confident he is in his submission ability.
However, he's facing a very experienced fighter in Ebersole, who will not get caught in those scrambles for submissions. He has the ability to maintain position while attacking with stiff ground and pound that can put his opponent away. If Waldburger is stuck on his back for an extended period of time, he will be in trouble. A third round stoppage is the likely outcome.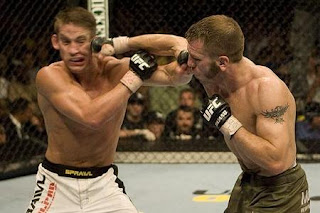 Looking beyond these bouts, you have the rubber match between Sam Stout and Spencer Fisher, the returns of Dan Miller and Nick Catone, and a fight featuring former welterweight contender Rick Story, as he looks to make a push back towards the top ten of the 170-pound weight class. UFC on FX 4 has the potential to be an exciting free television event that any MMA fan would not want to miss.
| | |
| --- | --- |
| What Do You Think of This Fight/Event? | |