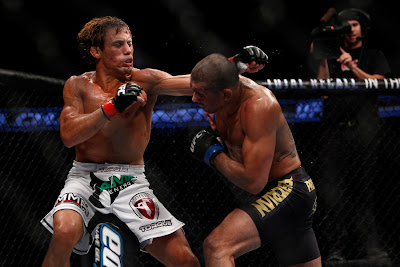 The UFC hit Scotiabank Saddledome in Calgary last Saturday night, and featured a fight between Renan Barao and "The California Kid" Urijah Faber for the Interim Bantamweight Championship, with the winner expected to meet Dominick Cruz once he recovers from injury. Here are the highs and lows of that night's fights:
The Highs
Undefeated in his past 17 fights, Ryan Jimmo looked to make a statement in his Octagon debut, and that he did, disposing of durable veteran Anthony Perosh in a matter of seven seconds. Jimmo has been long admired in his native Canada, racking up wins and becoming MFC champion along the way. Many fans have looked forward to his move to the big show for a long time, and he impressed big time, tying the record for the fastest knockout in UFC history, a record which is only surpassed — albeit unofficially — by Duane "Bang" Ludwig. I would love to see him take on fellow talented striker Cyrille Diabate next.
Canada native Roland Delorme had the hometown advantage when he faced Francisco Rivera on UFC 149's preliminary card. However, Rivera displayed poise and precision as he easily picked Delorme apart with vastly superior striking. I was highly impressed with Rivera's movement and the ease with which he changed levels. Francisco Rivera is currently riding a 4-fight winning streak, and I would love to see him matched up with another exciting fighter like Michael McDonald. This would make for a great fight, and help to build up more contenders for when the belts are unified, and the champion can defend it.
Matthew Riddle came in on short notice to fill a spot against Chris Clements on Saturday's main card, and put in an impressive performance. Riddle displayed his always fan friendly style and locked up the Submission of the Night by beautifully taking a standing arm triangle to the mat and securing the tap.
Renan Barao proved just how talented he is by picking apart Urijah Faber in the night's main event. He looked calm and collected as he countered Faber's sluggish strikes en-route to a one-sided decision victory. I am really excited about seeing Barao face Cruz and potentially unify the Bantamweight belt, this fight has all the making of an unbelievably exciting bout, as I feel Barao has the speed and technique to make Cruz deviate from his usual game plan.
The Lows
The majority of the main card could be used to treat patients of chronic insomnia, particularly the heavyweight clash between Shawn Jordan and Cheick Kongo. This fight left me wondering why the UFC continues to put Kongo on main cards. The facts are simple: since 2009 he has been very boring to watch. The most exciting fights he is in involve him being knocked unconscious, with the exception of the Pat Barry fight. The only MMA bout that I have ever fallen asleep during was his fight with Matt Mitrione. He really needs to begin showcasing the aggression he was once known for.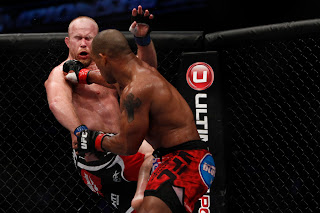 Tim Boetsch vs. Hector Lombard was a fight I had long been looking forward to, as I love both fighters' aggression, but it turned out to be a very lackluster affair, with Lombard only really throwing single strikes, and Boetsch being very savvy and using kicks to keep range. Although this was a major letdown to the fans, I can understand Tim Boetsch's game plan, and at the end of the day it was up to Lombard to close the distance. The judges gave the fight to Boetsch, but I felt Lombard had done enough to get victory. Next up for Lombard will no doubt be a bout with Mark Munoz, as the pair have exchanged words in the past few weeks, and with both coming off losses, this fight seems inevitable.
| | |
| --- | --- |
| What Do You Think of This Fight/Event? | |