Whether we want to admit it or not, the sport of mixed martial arts seems to have hit a stale point. As the Ultimate Fighting Championship continues to struggle with the sheer amount of shows they are attempting to put on, and Bellator remains lost to many viewers, fans seem to be turned off by the current direction of the sport. Yet one organization has found a way to excite people about its future. Invicta Fighting Championships has been able to find success by catering to a specific market, and in doing so, has infused a breath of fresh air into the sport.

The brainchild of President Shannon Knapp and matchmaker Janet Martin, Invicta FC has experienced a strong start with two successful shows this year. The all-female mixed martial arts promotion features some of the biggest names in women's fighting, despite the fact that most mainstream fans would still struggle to identify them. Marloes Coenen, Liz Carmouche, Kaitlin Young, Sara McMann, and Amanda Nunes are listed among the best female fighters in the world, and they all compete under the Invicta FC banner. The organization has put on some exciting bouts during their first two events, and it seems as if they are going to continue to maintain that momentum, as they have just announced their third card for October, which will feature two title fights.
While the idea of women's fighting doesn't capture everyone's attention, there is something about Invicta FC that makes the organization very intriguing. The growth of MMA is linked to the impact of social media and Invicta has truly embraced those platforms. All of the fighters who are involved with the organization continually promote their events through Facebook, Twitter, and YouTube. The night of Invicta FC 2, it was nearly impossible to read an MMA-related Twitter timeline or Facebook news feed without a new update related to the organization and its event. Pictures, videos, and anything else that could have been used to capture fight fans' attention was pushed in front of them.
What is even more impressive is that women who are not involved with the organization, such as Miesha Tate and Ronda Rousey, are speaking very highly about the organization any time they are asked. In today's world of promotional competition, the norm is that the larger organizations do not acknowledge the smaller groups, but Invicta has positioned itself into such a niche market that fighters and promoters alike feel comfortable addressing and speaking highly about what they are doing. As they continue to gain steam through these positive referrals, the number of eyes that are paying attention to the promotion continues to grow. This amount of attention has grown so much that the live streams of both the events streamed on the promotion's website have been bogged down by unexpected viewership numbers. Quite the development for an organization that caters to fighting that some MMA pundits claim no one wants to see.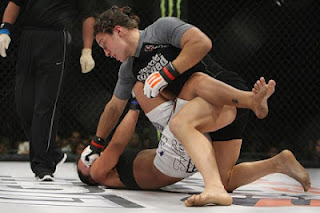 Another intriguing aspect of what Invicta has been able to do is the matchups. The roster of fighters within Invicta consists of the biggest names, with the exception of Sarah Kaufman, Tara LaRosa, Rousey, and Tate. It will be interesting to see if they can gather up the last few major fighters available, and pit them against each other in the biggest fights. They're developing the depth in their divisions that UFC President Dana White said does not exist in women's MMA, so it is just a matter of time before they can create bigger fights. At that point, it will be interesting to see how strongly they can promote those fights to a larger segment of the MMA fanbase.
As MMA has hit a slowing point due to circumstances beyond current control, Invicta FC has continued to develop its brand into a marketable force within the sport. These next few months to a year are pivotal in determining exactly how far the promotion, and women's mixed martial arts as a whole, can go.
| | |
| --- | --- |
| What Do You Think of This Fight/Event? | |