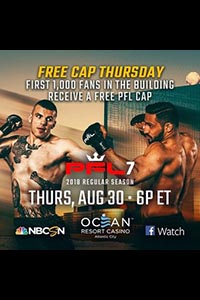 PFL 7: Rama vs. Abdallah takes place August 30, 2018 at Ocean Resort Casino in Atlantic City, New Jersey.
PFL 7 Pre-Fight Analysis
PFL 7 Tapology
PFL 7 Live Results
PFL 7 Post-Fight Analysis
"POSTLIMINARY" SWING BOUT (Untelevised)
•
MAIN CARD (NBCSN, 9:00 PM ET)
• Smealinho Rama vs. Jamie Abdallah: Smealinho Rama def. Jamie Abdallah via TKO (doctor's stoppage) at 5:00 of round 2.
• Bazigit Atajev vs. Sean O'Connell: Bazigit Atajev def. Sean O'Connell via TKO (strikes) at 3:30 of round 1.
• Alexandre Bezerra vs. Magomed Idrisov: Alexandre Bezerra def. Magomed Idrisov via KO (flying knee) at 3:24 of round 1.
• Paul Bradley vs. Handesson Ferreira: Handerson Ferreira def. Paul Bradley via TKO (punches) at 0:20 of round 1.
• Caio Alencar vs. Mike Kyle: Caio Alencar def. Mike Kyle via unanimous decision (30-27, 30-27, 29-28).
PRELIMINARY CARD (Facebook, 6:30 PM ET)
• Caio Magalhaes vs. Sadibou Sy: Sadibou Sy def. Caio Magalhaes via KO (strikes) at 2:06 of round 1.
• Jason Butcher vs. Emiliano Sordi: Emiliano Sordi def. Jason Butcher via KO (punch) at 0:16 of round 1.
• Saidyokub Kakharamonov vs. Omar Nurmagomedov: Omar Nurmagomedov def. Saidyokub Kakharamonov via unanimous decision (30-27, 30-27, 29-28).
• Robert Hale vs. Ramazan Kuramagomedov: Ramazan Kuramagomedov def. Robert Hale via unanimous decision (30-27, 30-27, 30-27).
• Muhammed De'Reese vs. LeRoy Johnson: Muhammed De'Reese def. Leroy Johnson via KO (knee) at 2:25 of round 1.
CLICK THE STARS TO RATE THE EVENT
| | |
| --- | --- |
| What Do You Think of This Fight/Event? | |