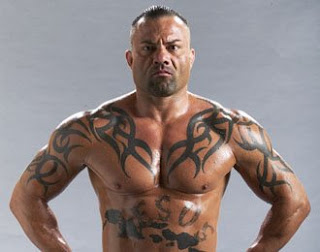 By E. Spencer Kyte (espencerkyte@mmaratings.net)
I woke up to the news this morning that UFC veteran Kimo Leopoldo had died from an apparent heart attack. [editor's note: the news that Kimo had died was published on many news sites, but turned out to be a rumor started on a forum. MMA Ratings is not a news site and this post is an opinion-based response to what was reported at the time.]
He was 41.
While a string of problems including testing positive for steroids, a marijuana arrest and a failed career as a promoter plagued the man many knew simply as "Kimo" over the last few years, I will always hold much different memories.

For me personally, Kimo will always be remembered as the guy who carried a massive wooden cross on his back at UFC 3 and the wide array of tattoos that decorated his entire body, as will his one fight performance at that third event.
Royce Gracie had just swept through UFC 1 and UFC 2, forcing everyone who stepped into the Octagon against him with to tap with an array of chokes and other submissions and Kimo was to be the next victim.
Though the legendary Gracie did come away victorious, it was only after being the first fighter to show the world and the rest of the competitors in the UFC that Royce Gracie was human. Kimo battled and grappled with the Brazilian Jiu Jitsu ace so long and so ferociously that Gracie was forced to withdraw from his next bout due to exhaustion.
While he managed just a 2-4 record over his various trips in and out of the UFC, the strength of that initial bout with Gracie that landed Kimo at No. 58 on The UFC 100 earlier this month.
Some are surely going to speculate about the nature and cause of Kimo's death, recounting his hardships and failures, living in the negative as many so often do these days.
I'm going to remember one of the early warriors of the UFC and tell him he's home now.
Rest in peace Kimo.
| | |
| --- | --- |
| What Do You Think of This Fight/Event? | |