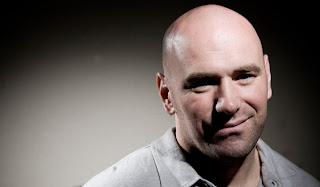 By E. Spencer Kyte (espencerkyte@mmaratings.net)
Like it or not, it's time to give it up to Dana White.
His detractors will say that he enjoys the failure of his competitors too much and while it may certainly be true, you have to give the guy credit for what he has managed to accomplish with the UFC.
The current buzz around the MMA world is Josh Barnett's removal from the Main Event at Affliction: Trilogy on August 1st and who his possible replacement might be. Regardless of who fills in to fight Fedor, there is a good chance this will be Affliction's last show. Another one bites the dust.
Meanwhile, Dana White and the UFC are standing stronger than ever.

On the heels of the second-largest gate revenue in the company's history, White has the UFC positioned to break into the mainstream media and garner the kind of coverage not yet afforded to Mixed Martial Arts in North America.
Despite his polarizing personality and heavy reliance on The F Bomb, White has succeed where so many others have failed and that is worthy of recognition in my books.
Affliction's pending demise only further underscores how impressive the success of the UFC as a brand and company truly is. Despite an impressive roster and bi-annual cards stacked to the rafters with talent, Affliction couldn't make a dent in the UFC's stranglehold on the PPV market.
While Affliction certainly succeeded where the UFC failed in landing Fedor, the end result may actually be more beneficial for the UFC when all is said and done.
Paying opposition to get obliterated by "The Last Emperor" cost Affliction a ton of money; Tim Sylvia earned $900,000 for 37 seconds of work, while Andrei Arlovski pocketed approximately $2.2 million for his brief Affliction career.
Meanwhile, Emelianenko's name has slowly began to gain recognition in North America among the casual fan, and just in time for a potential move to the UFC. Funny how that worked out …
From the moment I heard of Affliction's foray into the promotion business, it sounded like a bad idea to me. Honestly, it sounded like Tom Atencio wanted to get into a pissing contest with Dana White.
Since then, he's called out White and challenged his image as a tough guy, stepping into the cage himself, as if to prove how tough and committed to the sport he is. Now he's on the brink of being out of the promotions game altogether.
Then there is White.
Love him or hate him, his shrewd business tactics and decade of work to build the UFC is paying off in spades, with the future looking brighter than ever before.
New markets continue to open. PPV numbers continue to soar. Life has been pumped back into The Ultimate Fighter series. Toys and video games and trading cards are hitting the shelves and flying off of them just as quickly.
Eleven days from now, Tom Atencio will be back mass-producing ugly t-shirts.
Dana White will be busy continuing to build the UFC Empire.
Your winner, by knockout, and still champion of the world …
| | |
| --- | --- |
| What Do You Think of This Fight/Event? | |