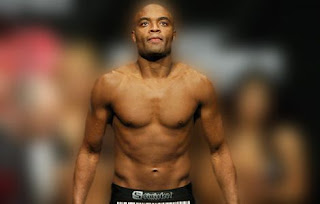 By E. Spencer Kyte (espencerkyte@mmaratings.net)
1. Anderson Silva Stands Alone as the P4P King
When you flatten a former Light Heavyweight champion with a quick right jab while backing up after doing your best Ali / Sugar Ray Leonard impression, you're a bad, bad man.

Yes, Forrest has a suspect chin, but the guy who submitted Shogun and chopped Rampage down with leg kicks could barely land a punch, yet alone defeat "The Spider" via submission as some grappling coaches may have predicted.
2. BJ Penn at 155 is a Monster
The win streak keeps going and the questions about his cardio and new training regime have been answered. Kenny Florian did as good a job as any has against "The Prodigy" of late at lightweight, but was simply beaten by a better man.
Now, the key will be keeping Penn on course to defend his belt with regularity as, despite some people's thoughts, 155 is a deep talent pool of worthy contenders including Diego Sanchez, Gray Maynard and Frankie Edgar.
3. We've Still Got Stoppage Issues
Not to take anything away from Johny Hendricks, but that was horrible stoppage in my books. Yes, he shook Amir Sadollah with those uppercuts, but most of those wild attempts to finish when the TUF 7 winner was on the ground were misses before Dan Miragliotta jumped in to wave it off.
I know you have to protect the fighters and I'd rather see fights stopped too soon than have guys get in serious trouble, but man. Besides Hendricks missing half those swings, Sadollah was trying to get back to his feet and Miragliotta was behind all the action. Can he see through people to determine the severity of their injuries?
4. Bring on the Replay
Add the Jesse Lennox – Danillo Villefort stoppage to the growing pile of evidence for the inclusion of instant replay into Mixed Martial Arts.
Headbutts and punches are two very different things.
A headbutt causing the gash that led to the stoppage means a No Contest and no complaints. Ruling the cut Villefort suffered was from a punch means he gets a loss, Jesse Lennox gets a win and we get another glaring example of why we need some degree of replay in MMA.
5. Take Your Beating Like a Man, Forrest
I know you're disappointed and I know you're embarassed, but c'mon.
If you can get up that quickly and run to the locker room, you can stand in the Octagon, congratulate your opponent who was clearly the better man and answer any questions Joe Rogan may have for you.
Running to the locker room is bad form and poor sportsmanship, and coming from the guy who is always promoted as a "heart-and-soul" guy, I was thoroughly disappointed.
6. Tough Night for the TUF Boys
Kenny Florian lost, Forrest Griffin lost and Kendall Grove lost too, giving the UFC's flagship show an 0-fer evening in Philadelphia.
The show has unquestionably been great for the sport and the UFC, but maybe the time for hyping guys and introducing them as the former Ultimate Fighter winner is just about over.
I mean, Mac Danzig is a former TUF winner and no one has any more interest in Mac Danzig, right?
7. We've Still Got Judging Issues
I'm no Thales Leites fan, but Thales Leites got robbed. How does one judge see it 30-27 Leites and the other two score the fight for Alessio Sakara?
Additionally, while all the judges saw Matt Riddle as the clear winner, how can three guys have it so different: 29-27, 30-27, and 30-26?
Personally, even the Ricardo Almeida Unanimous 30-27 was dicey to me. Grove had the second round on my scorecard with the armbar attempt.
8. Speaking of Thales Leites…
PEACE OUT HOMEBOY!
Two straight fights where he doesn't want to fight? While I understand not engaging with Anderson Silva, but when you don't even really want to fight Alessio Sakara, a dude who was 4-4 coming into things, you deserve to be cut.
I mean, Jason MacDonald took on everyone the UFC put in front of him, fought hard to a 5-5 record and got his walking papers. This dude certainly deserves the same fate.
9. UFC at Fenway Would Be So Dope!
More of a "What We Learned at the UFC 101 Post-Fight Press Conference" note, but tell me this wouldn't be absolutely awesome?
So too would an outdoor event at Aloha Stadium when the UFC makes their first foray into Hawaiian sometime next year.
And don't even get me started on shows in Vancouver and Toronto…
10. A UFC / WEC Merger is Coming
This has been discussed before and while nothing was even remotely close to being announced last night, there were signs that this is going to happen.
Rogan and Goldie talked up some of the big name talents in the WEC and the promo for tonight's card got lots of airtime on the broadcast. Besides, it would make total sense.
Some of the best fights of every year come from the Mighty Mites of the WEC and with growing recognition for guys like Miguel Torres, Mike Brown and Urijah Faber, bringing everyone under one umbrella would make sense.
Extra Point: 5-5 on the Punch Drunk Predictions
| | |
| --- | --- |
| What Do You Think of This Fight/Event? | |