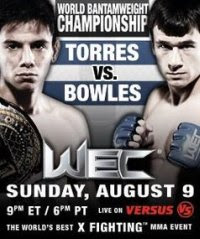 Click the stars to rate how good you think it will be.
WEC 42: Torres vs. Bowles is scheduled to take place on August 9, 2009 at the Hard Rock Hotel and Casino in Las Vegas, Nevada.
Bantamweight champion Miguel Torres will defend his title against no. 1 contender Brian Bowles in the main event.
Picks and Predictions for WEC 42: Mighty Mites

WEC 42 Preview
Bantamweight Championship bout: Miguel Torres vs. Brian Bowles
Bantamweight bout: Joseph Benavidez vs. Dominick Cruz
Lightweight bout: Ricardo Lamas vs. Danny Castillo
Bantamweight bout: Takeya Mizugaki vs. Jeff Curran
Featherweight bout: Leonard Garcia vs. Jameel Massouh
Featherweight bout: Javier Vazquez vs. L.C. Davis
Featherweight bout: Fredson Paixao vs. Cole Province
Lightweight bout: Marcus Hicks vs. Shane Roller
Lightweight bout: Ed Ratcliff vs. Phil Cardella
Bantamweight bout: Rani Yahya vs. John Hosman
Featherweight bout: Rafael Dias vs. Diego Nunes
| | |
| --- | --- |
| What Do You Think of This Fight/Event? | |