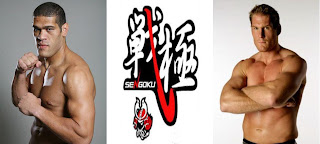 By E. Spencer Kyte (espencerkyte@mmaratings.net)
In a recent interview with Tatame, Antonio "Bigfoot" Silva stated that should he emerge victorious from his fight at the upcoming Sengoku 10th Battle with "Big" Jim York, a bout with Josh Barnett for the vacant Sengoku Heavyweight title would take place in November.
Nothing like rewarding steroid users with championship belts and a place to fight when they can't make a living in North America…

While the casual fan may not pay any attention to what takes place in MMA organizations across the Pacific, you can be certain that opponents to the sport will certainly take notice and have something to say about this, and so should those who are passionate about the sport.
At a time when Mixed Martial Arts is on the cusp of breaking into the mainstream and garnering more attention than ever before, presenting a globally-unified front against performance enhancing drugs and honoring Athletic Commission suspensions by all organizations would be a great positive for the sport.
Instead, as organizations like World Victory Road continue to give suspended fighters like Silva and Barnett an opportunity to fight, those who challenge the validity of the sport are given ammunition for their attacks.
Though Silva is no longer under suspension and eyeballing a return to North America in 2010, WVR saw no problems with giving the former EliteXC heavyweight champion a place on the Sengoku no Ran 2009 fight card just seven months into his one year suspension.
While the fighters themselves are equally responsible for ignoring their suspensions and accepting these fights, the fact of the matter is that they would have no such opportunities if World Victory Road did not disregard the suspensions that have been handed down.
The message this sends is that steroid use isn't a major concern to World Victory Road; they would rather put on fights with suspended fighters known to use steroids than help MMA fight to remain a clean sport, and that is something detractors will jump all over.
With any athletic competition, the question of steroids is bound to come up.
Openly welcoming fighters who are serving suspensions for positive tests only lends credence to the argument that steroids are common place within Mixed Martial Arts.
Whether that statement is valid or not doesn't really matter; perception is reality and giving those who view the sport as savage brutality the chance to add steroid abuse to their list of complaints and objections is pouring fuel on the fire.
Despite the fact that North American organizations are not condoning this behavior, the scrutiny will certainly turn to Strikeforce, the UFC and the countless smaller organizations that actually adhere to the suspensions.
Unfortunately, there is very little that can be done to keep this from happening.
World Victory Road clearly has no intention or interest in honoring the suspensions, and levying further penalties on the fighters themselves is futile as long as WVR is willing to give them a place to fight.
Thank you World Victory Road.
You've given the ever-watchful eye of the Mixed Martial Arts opposition another platform to attack the sport from.
I can see it now:
"Steroid-fueled monsters covered in blood pummel each other until their faces are unrecognizable. How is this savagery considered a sport?" By John Canzano
| | |
| --- | --- |
| What Do You Think of This Fight/Event? | |