The year 2011 brought us some exciting moments in the mixed martial arts industry. Sit back and enjoy this ride with me down memory lane to some of the moments that will stay ingrained in our minds and the fighters who we have to thank for each of them:

Fighter of the Year
Jon Jones – The current UFC light heavyweight champion had a year that will be hard to top for any fighter in the future. In February of this year, Jones was set to face off against Ryan Bader at UFC 126. He walked into the event and dominated another young prospect in the sport. Surprisingly he was offered a title shot against Mauricio "Shogun" Rua by stepping in for an injured Rashad Evans. Jones dominated Rua in a manner that we had never seen before. Even before his act he was out committing "Superhuman" acts to foil would be robbers. For his next act, Jones did the same thing to Quinton "Rampage" Jackson, another prominent fighter, who took a beating over four rounds. To close out the year he faced a tough fight against Lyoto Machida. Many felt Machida had the tools to win, and he looked like he would place Jones in trouble. That was until Jones opened a bloody cut on Machida's forehead and chocked him unconscious in the second round. There isn't a much better year to be had in mixed martial arts, and Jon Jones lived it out to a "T."
Knockout of the Year
Anderson Silva Front Kicks Vitor Belfort at UFC 126 – Vitor Belfort was supposed to be the fighter that had the striking and wrestling ability to threaten middleweight king Anderson Silva. Instead he became what may be the greatest highlight on Silva's walk of fame. Belfort started off well, landing a few shots, and scoring a takedown into a scramble. Yet just as fast, it all fell apart. In a flash Silva's foot snapped forward, Belfort's head nodded, and then his legs turned off like someone pulled out the power plug. With that front kick Silva not only added to his acclaim, but made Steven Segal relevant once again.
Notable knockouts of the year include Lyoto Machida knocking out Randy Couture with the crane front kick from "Karate Kid" lore at UFC 129. Not only did he end the fight; he knocked Couture out of MMA and sent his tooth flying from his mouth. Another KO that was burned into my mind was Sam Stout's knockout of Yves Edwards at UFC 131. The way Edwards body was prone on the mat with his eyes wide open is a horrid sight even to this day.
Submission of the Year
Chan Sung Jung Twister Submission of Leonard Garcia at UFC Fight Night 24 – The last time these two guys fought they were winging punches in such a fashion that the fans couldn't help but give them a standing ovation. The second time around, the fight was held in the UFC in February, and this time it would go differently. In the second round, "The Korean Zombie" was able to take Garcia's neck and apply the fabled Twister submission. Even though he only had one second left, Garcia was forced to submit. The next day, grapplers across the world Googled instructional videos for the Twister roll, hoping to demonstrate it against unsuspecting training partners. That is a staple of any highlight reel submission victory.
The most notable submission of the year after Jung's twister is the submission of Antonio Rodrigo Nogueira by former UFC champion Frank Mir. While the kimura is a move that is used often in MMA and grappling; what shocked me was the grace that Mir used to first sweep Nogueira and then land on top in perfect position to finish the hold. Along with snapping the arm like a ice cream bar stick, Mir's submission victory is going to be immediately added to his highlight reel.
Breakthrough Fighter of the Year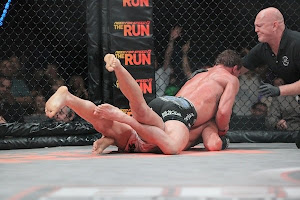 Michael Chandler – In one year Michael Chandler broke through to elite status in the mixed martial arts world. A flat out underdog when he entered the Bellator lightweight tournament, Chandler wasn't expected to do what he did this season. Instead of going out early, he was able to defeat the tournament favorite in Patricky Freire, and then defeat top 5 ranked lightweight Eddie Alvarez, becoming only the second person to defeat him at 155 pounds. Now he is positioned a potential face of the promotion, especially with Bellator moving to a better television location.
While some may argue that this award should go to Jon Jones, but Jones didn't necessarily surprise anyone. Before his bout with Bader it was expected that he would become a name in the sport. Chandler, on the other hand, truly burst on the scene from obscurity when he won the Bellator tournament and then one upped himself by defeating the long regining Alvarez. Along with great timing and even better performances in the cage, Chandler deserves this award in my book.
News Event of the Year
Fighters Getting Insurance – Zuffa made some astonishing moves this year; from purchasing Strikeforce to signing a television deal with Fox. Even still, I believe that the addition of insurance for their fighters is the biggest story from 2011.
Injuries will happen. It's rare that a fighter will walk into a contest without being banged up in some form of fashion. Before, you would have fighters stepping into the cage when they should not have even considered doing so. With insurance in place, these fighters will now step aside because they have the financial help needed to get the proper treatment. I believe we have already seen the effect of the insurance as fight cards are constantly changed to deal with the mounting number of fight withdrawls.
In professional sports, the athletes want some sort of protection from serious injuries from their employers. Mixed martial arts was one of the only industries that did not offer this protection to its participants. Now the Zuffa employees are protected in a sense that at one time would have never been expected in the sport.
Fight of the Year
MMA Ratings ranks fights and events based on how you rate them, and has published the official Top Fights from 2011. However, my pick for Fight of the Year differs.
I chose Frankie Edgar versus Gray Maynard which was only ranked #3 with 4.73 stars. On New Years Day we were all given a treat. Frankie Edgar and Gray Maynard stood toe to toe in the Octagon to determine who was the best lightweight in mixed martial arts. In the first round we watched what can easily be considered the fabled 10-7 round, but somehow Edgar was able to fight back. 25 minutes of back and forth action left the judges unable to decide who the winner was that evening. Since that date a number of battles have excited us all, but let's not forget about the year's best fight in MMA's best weight class.
We can only hope that 2012 will be just as interesting as mixed martial arts continues to grow and stake its claim as a mainstream sport.
| | |
| --- | --- |
| What Do You Think of This Fight/Event? | |