As we continue to recap the events from UFC 145, it's apparent that Jon Jones will soon be entered into the discussion of the greatest mixed martial artist of all time. While it may be hard for some sports enthusiasts to fathom how a 24-year-old with less than four years of professional experience can be considered the greatest to have ever competed, it is very hard to argue against what "Bones" has done in the Octagon. He's putting together a run that we may never see in the Octagon again.

Jones has defeated some of the greatest names in mixed martial arts. In a little more than a year Jones has defeated Rashad Evans, Lyoto Machida, Quinton Jackson, and Mauricio Rua. Not only did he defeat them, he dominated each one of them, outmatching them all for nearly every second of every contest. You won't be able to find another fighter who has defeated four former champions in a span of fourteen months. The combined record of those four individuals is 86-21. If you throw in Ryan Bader that bumps the total up to 100-23. Five fighters with a combined 81 percent winning percentage, and Jones walked through each of them looking like a completely new and improved fighter each time.
Compare that to the only other fighters to defend the light heavyweight championship three times, and you will see how impressive this run really has become. Chuck Liddell, Tito Ortiz, and Frank Shamrock are the only other fighters to have defended the belt at least three times. If you look at those individuals and who they fought while champion, this is what you will find: Chuck's opponents had a 75 percent winning percentage, Shamrock's opponents 73 percent, and Ortiz's opponents 68 percent. Jeremy Horn's 89 wins greatly boost the statistics behind Liddell's and Ortiz's opponent winning percentage. Even still, these numbers show just how far Jones's opponents are, compared to those fought by other long-term champions in the division.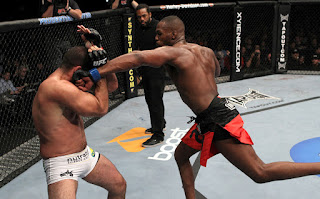 If you want some more numbers to see how great Jones has become, let's talk striking. According to Fight Metric, his 51 percent accuracy rate on strikes is second only to Shamrock, who landed at a 53 percent clip. His 3.9 significant shot per minute landing rate is also only second to Shamrock as well, who landed at 4.86 shots per minute. Can this be attributed to the difference in competition? Potentially, but still strong numbers to see, especially when you take into account Jones's ability to greatly vary his attacks and not get taken down at all during his four-year professional run.
Another thing you can look at is how often Jones is finishing these fighters. Evans became the first individual since Stephen Bonnar to last a complete fight with the champion. Ever since that point, Jones has been getting fighters out of the cage at a rapid rate. In an age where mainstream fans are complaining about boring fights, Jones is the type of champion that has proved not only that he knows how to take calculated risks to win fights, but that he's willing to do so on a consistent basis.
Dominance over a division isn't entirely new, as Georges St. Pierre and Anderson Silva have reigned over their groups for an extended period of time. Even Dominick Cruz and Jose Aldo can be considered dominant, as they have had multiple title defenses across their respective WEC and UFC reigns. However, you will be hard pressed to find a current champion in the sport that has outclassed such a high level of peers on a consistent basis. Some may have scoffed at the idea of Jones being compared to boxing great Muhammad Ali, but he is clearly staking his claim as the greatest of all time.
| | |
| --- | --- |
| What Do You Think of This Fight/Event? | |