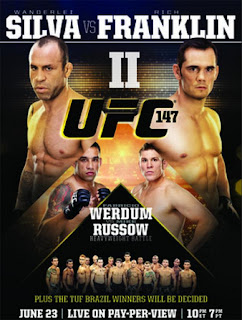 UFC 147: Silva vs. Franklin II is to take place on June 23, 2012 at the Estadio Jornalista Felipe Drumond in Belo Horizonte, Brazil.
It will air live on PPV at 10 pm ET (7 pm PT). Preliminary bouts will be aired live on FX at 8 pm ET (5 pm PT) and on Fuel. Additional preliminary bouts will be streamed live on Facebook.
Click the stars to rate how good you think UFC 147 will be.

UFC 147 Pre-Fight Analysis

UFC 147 Tapology
MAIN CARD (Pay-per-view)
• Anderson Silva vs. Chael Sonnen (MW title bout)
• Rich Franklin (formerly Vitor Belfort) vs. Wanderlei Silva (190-pound Catchweight Fight)
• Mike Russow vs. Fabricio Werdum
• Rony "Jason" Mariano Bezerra vs. Godofredo "Pepey" Castro ("TUF: Brazil" featherweight final)
• Sergio Moraes (formerly Daniel Sarafian) vs. Cezar Ferreira("TUF: Brazil" middleweight final)
• Yuri Alcantara vs. Hacran Dias
PRELIMINARY CARD (FX)
• Rodrigo Damm vs. Anistavio "Gasparzinho" Medeiros
• Francisco "Massaranduba" Drinaldo vs. Delson "Pe de Chumbo" Heleno
• Leonardo "Macarrao" Mafra Teixeira vs. Thiago de Oliveira Perpetuo
• Jhon "Macapa" Teixeira da Conceicao vs. Hugo "Wolverine" Viana
PRELIMINARY CARD (Facebook/Youtube)
• Marcos Vinicius "Vina" Borges Pancini vs. Wagner "Galeto" Campos
• Felipe Arantes vs. Milton Vieira
| | |
| --- | --- |
| What Do You Think of This Fight/Event? | |