As UFC 144 draws near, the anticipation for its scheduled fights continues to grow. Whether it's the return of established stars such as Quinton "Rampage" Jackson or Takanori Gomi, or the lightweight title fight between Frankie Edgar and Benson Henderson, this card has the mixed martial arts community talking. One important topic of discussion is the fight between Anthony Pettis and Joe Lauzon, with the winner seemingly knocking on the door for a title shot.

The lightweight division has become the proverbial "shark tank" of the UFC, as wins and losses have become more and more important. Numerous fighters can be considered credible contenders, and the excitement behind potential matchups continues to build. Both Lauzon and Pettis are in a position to leave Japan as the true number-one contender to the title held by whoever wins the main event on February 25th. Their fight pits two high octane fighters against each other, with both knowing how close they are to reaching their championship aspirations.
Anthony Pettis will be the favorite going into this bout, and as a former champion, that is to be expected. Sports fans around the world witnessed the moment when he caught Henderson with the "Showtime Kick" and closed out the final WEC card as their last lightweight champion. When circumstances outside his control prevented him from receiving the immediate title shot he expected, Pettis decided to stay active and fight the tough contender Clay Guida at The Ultimate Fighter 13 Finale. While he was unable to keep the momentum going against "The Carpenter," Pettis has since gone a long way towards showing his growth as a mixed martial artist by defeating Jeremy Stephens at UFC 136. If he finds a way to win this bout in a spectacular fashion like he did against Henderson, we will be talking about Pettis as our next lightweight title contender.
Joe Lauzon has taken a less conventional path towards this bout. The intrigue started when as a competitor on The Ultimate Fighter he was selected to be on BJ Penn's team. This was odd because the year before at UFC 63 Lauzon fought Pulver, and knocked him out! While Lauzon was unable to win the tournament, he still made his way to the UFC and became an effective lightweight. Throughout his career, Lauzon has been the type of fighter to either finish his opponent decisively, or lose in such a fashion, as only one of his 27 bouts has ever gone to the judges. The one fight that did, against Sam Stout, earned him Fight of the Night honors. At 21-6, Lauzon has proven that he can finish opponents in a variety of ways, which will come into play during his bout against Pettis.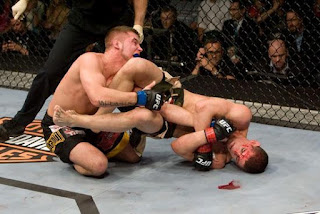 Fans and experts alike can agree that this is going to be an exciting fight right from the opening moments. Both Pettis and Lauzon usually attempt to command the center of the cage, and that's where the first exchange will occur.
Pettis will hold the advantage in the striking department, as he has shown a diverse skill set on his feet. He throws kicks and punches in combinations and from many different angles. Lauzon is a very technical boxer in his own right, but I do not believe he wants to try to stand and exchange with Pettis, who has the ability to stop him in violent fashion.
Lauzon should use his striking to set up takedowns, because he will hold the advantage when it comes to Brazilian Jiu Jitsu. While both Pettis and Lauzon are purple belts in the discipline, Lauzon has shown greater effectiveness during competition, as 16 of his victories have come by submission. Pettis is very active off his back, but Lauzon has the experience to control his position, and maintain that control for long periods.
The real question for Lauzon is his endurance, as many people have pointed to the fact that he has punched himself out during the first round in many of his fights. Look back to when he was defeated by George Sotiropoulos at UFC 123. He was winning the standup exchanges early, but the moment the second round started you could tell he had slowed down. If he does so against Pettis, you can expect Pettis to push the pace and go in for the kill.
In what will be a highly entertaining lightweight fight, Anthony Pettis will be able to control the bout on the feet and do enough to avoid submissions if the bout lands on the mat. If Lauzon tires himself out early, Pettis could end the bout in the second round, but I believe this fight is going the full 15 minutes with Pettis earning the unanimous decision win.
Click here for more pre-UFC 144 coverage.
| | |
| --- | --- |
| What Do You Think of This Fight/Event? | |