At UFC 148 we will have the privilege of watching what may be the final step towards establishing mixed martial arts' first great mainstream legacy. When Anderson Silva faces Chael Sonnen in the UFC's biggest event this year, he will have much more on the line than his middleweight championship. Nearly two years after their fantastic matchup at UFC 117, the rematch that the MMA world has been clamoring for could change the landscape of the middleweight division, and potentially the sport as a whole.

In 2006, Anderson Silva began to put together one of the UFC's first major highlight reels when he decimated Chris Leben at UFC Fight Night 5. Since that time, his run through the sport has been well-documented, though not without its critics. With a 14-fight win streak that includes 12 stoppages, Silva has proven to be the most dominant champion to ever grace the sport. And even though he put on those "performances" against Demian Maia and Thales Leites, it is impossible to question all that he has accomplished within the sport. Yet that legacy could be either further cemented or radically shifted based on what happens when he steps into the cage against the self-proclaimed "Real American Gangster."
Chael Sonnen was less than three minutes away from doing what 13 other men were unable to do in the Octagon. Even though he proclaims himself to be the reigning and defending middleweight champion, the fact of the matter is that he lost the closest bid to date for the 185-pound championship. Since almost immediately afterward, however, he has been campaigning for a rematch, saying whatever he wants to whoever will listen. Whether he was deriding Silva's home country of Brazil, Silva's family, or any of his teammates, Sonnen was able to do exactly what he intended to do: keep his name relevant until he was given the opportunity to face off against Silva again. And whether you like him or not, he has the tools to get the job done. He's proven it once before, and those 23 minutes and ten seconds from two years ago are more than enough to get fans to tune in on July 7. Yet after the fight, when the Octagon door is opened and both of these fighters walk out of the cage, what will be the aftermath?
If Anderson Silva wins, it will be hard to justify not placing Silva at the top of the all-time list. Since getting to the biggest stage in mixed martial arts, Silva has done nothing but win and win convincingly. And on top of that, Silva went on this streak at the perfect time. Not only did he take each of his opponents out of one way or another, but he did so when the right eyes were watching. He caught fire just as the sport was beginning to receive the mainstream coverage that helped promote the growth of the UFC to an enterprise that generates millions on Fox, and that broadcasts near-weekly events. Silva was one of the first fighters discussed and featured on major sports outlets such as ESPN, and while he couldn't speak English very well, the violent fashion that he put guys away was enough to let the world know what this fighter was about. And now that the UFC has expanded into Brazil, making it a regular part of its touring schedule, the number of eyes on Silva has grown exponentially.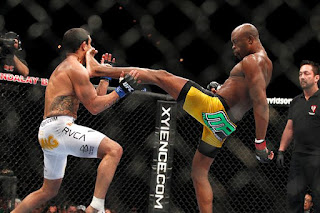 A loss would put a blemish on six years of astonishing work, and potentially push Silva away from the sport. Some critics have disparaged Silva's resume in the past for not including the tough names that fighters such as Dan Henderson or Georges St. Pierre have faced over the course of their long runs in the sport. Sonnen may be the toughest opponent Silva has faced since he stepped into the Octagon, so a loss to Sonnen would bring those critics out of the woodwork. And at this late point in his career, I can't see Silva chasing after the title once again. While a trilogy fight between Sonnen and Silva would have the potential to be the biggest event in mixed martial arts history, I believe that Silva would not want to take part in it. He's already 37 years old, and at this point he doesn't have anything to prove.
Come July 7, fight fans will have the opportunity to witness what could be the culmination of one of the greatest careers in combat sports history. UFC 148: Sonnen vs. Silva II is the biggest UFC event since their first fight two years ago, and when everything is over, Silva's flawless Octagon record, and status of the greatest fighter the sport has ever seen, will either be cemented or tarnished. But regardless of whether he settles the debate about where he ranks all-time, Silva's importance within the sport, and especially inside of the Octagon, can never be denied.
| | |
| --- | --- |
| What Do You Think of This Fight/Event? | |