This past weekend's UFC Vegas 19 card featured four heavyweight bouts, which is something you just don't see very often at the highest level of the sport. Usually, you'll have one or two heavyweights on a UFC card. The fact there were four big-boy fights on this card showed that the promotion was looking to give some rub to the UFC's highest weight class. In particular, heavyweight bouts pitting Tom Aspinall against Andrei Arlovski and Chris Daukaus against Alexei Oleinik were two of the most intriguing fights on the card. And let's just say there was a reason the UFC booked two young studs against two aging vets.
In the case of Aspinall, he's only 27 years old, and the Brit is already 3-0 in the UFC now following his submission win over Arlovski to go along with prior victories in the Octagon over Jake Collier and Alan Baudot. The UFC has been looking for a big star from England ever since Michael Bisping hung up his gloves a few years ago. The promotion has tried to build Darren Till into a champion, but he keeps coming up short. Aspinall might now be the UFC's greatest hope for having another English champion. With KO power to go along with his BJJ black belt, Aspinall looks like he could be a future champion.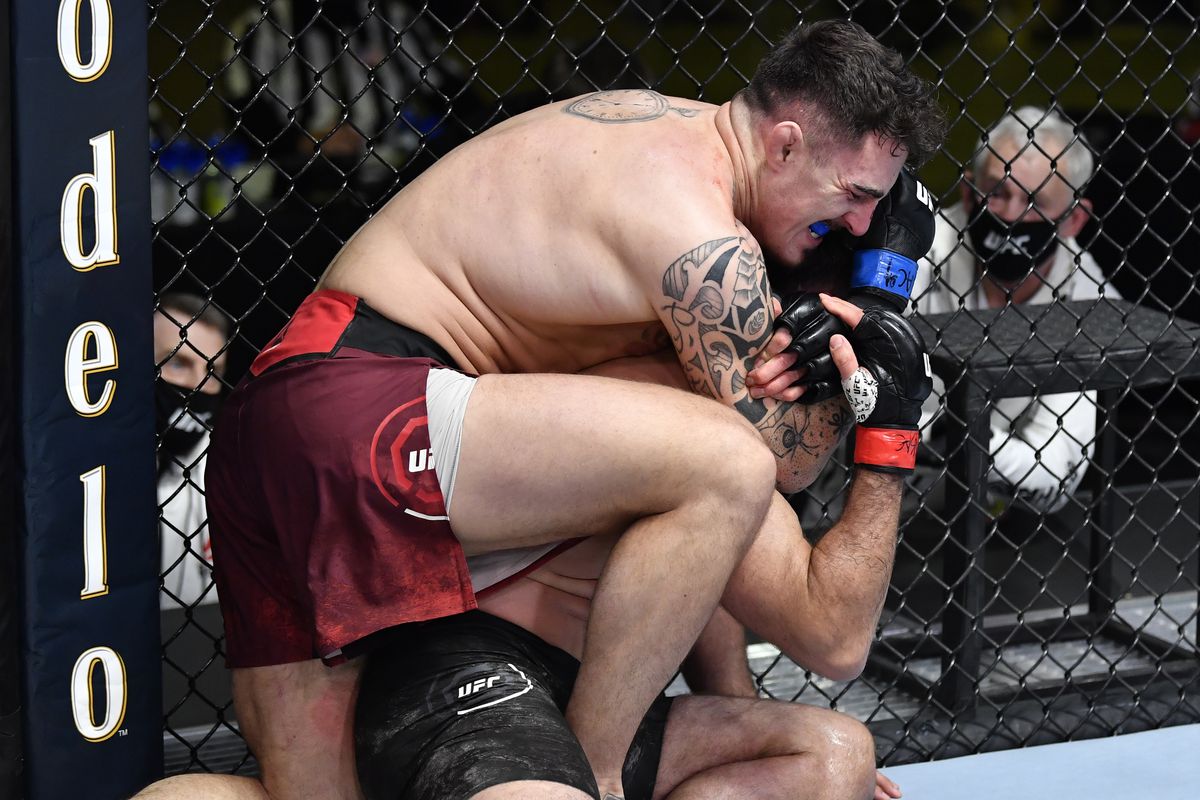 We heard nothing but good things about Aspinall before he made his UFC debut, and based on what we have seen of him so far in the Octagon, it's possible that he's even better than advertised. He is a young man who is an excellent fighter and he is also very good on the mic. The UFC needs new heavyweight contenders with many of the promotion's top big men at the end of their careers. Aspinall seems to be one of the guys that the organization should, and will, invest in going forward. This a young, powerful heavyweight with a lot of potential, and he should be fighting someone in the Top 10 very soon.
And in my opinion, you could also say the same thing about Daukaus. I get that when you look at him, doesn't seem like the fittest heavyweight. You see some belly flab and might not think he's that athletic. But then you actually watch him fight and you see that he is. In knocking out Oleinik in the first round, Daukaus once again exhibited his incredible knockout power inside the Octagon following previous quick knockouts over Rodrigo Nascimento and Parker Porter. Daukaus, a Philadelphia police officer who is also a BJJ black belt, has all the skills to make a run for the title. He is the perfect example of why you never judge a book by its cover, particularly in a sport such as mixed martial arts.
Unlike Aspinall, Daukaus didn't have a ton of hype behind him before he joined the UFC. Arguably his brother Kyle Daukaus, a middleweight prospect who was on the Contender Series and who was in the UFC before Chris, was the better MMA prospect in the family. And while Kyle has looked good in the UFC so far, Chris has looked far superior, albeit at a different weight class. If you just look at his weigh-ins, you might not think he's a great fighter. But if you think that, you are making a serious mistake. Daukaus, as far as I'm concerned, is as good of a heavyweight prospect as there is in MMA right now.
Between Tom Aspinall and Chris Daukaus, the UFC had two young heavyweights emerge as legitimate threats with their big wins over Andrei Arlovski and Alexei Oleinik, respectively. Both men are welcome additions to the UFC's heaviest weight class and both men have the potential to go very far in the sport. With many of the UFC's top heavies nearing the end of their careers, the matchmakers are desperate for young studs like Aspinall and Daukaus to emerge as contenders by matching them up with veterans. Both fighters did their job at UFC Vegas 19, and the sky is the limit for both guys going forward in their MMA careers.
| | |
| --- | --- |
| What Do You Think of This Fight/Event? | |